Special Delivery Baby Hammocks are made by mothers for mothers.
We have a very personal investment in our baby hammocks, for our babies sleep in them! The mothers in our sewing circle get a great deal of satisfaction out of making these hammocks. They feel they are making a difference in the world by contributing a quality product toward something they really believe in: helping to nurture babies. Each hammock is an individual creation, created from start to finish by one seamstress thereby giving her the satisfaction of creation and completion. Just take a look at our shopping pages and you'll see the wide variety of material patterns and colors which our mothers have chosen for hammock creation.
Designed by practicing Physician and Midwife, Patricia Mather, the Special Delivery Baby Hammock provides a relaxed and soothing environment for newborns in their first few months of life. Combining her experience as a physician, mother and seamstress, Patricia set out to design the most economical and functional, simple yet elegant baby hammock on the market.
Cradled in the soft contours of the Special Delivery Baby Hammock, babies naturally relax and experience calm, restful sleep. When they stir, their own movements set the spring recoil, swaying motion into action, allowing babies to self-soothe and put themselves back to sleep. Rather than laying against the flat, stationary surface of a typical crib or bassinet,they experience the nurturing motion and curvature so familiar from their recent nine months in the womb.
As they grow, the Special Delivery Baby Hammock continues to provide peaceful rest and soothing comfort for your baby, easing colic and acid reflux. While pediatricians agree that sleeping on the back is the safest position for babies, reducing the incidence of SIDS, it may also result in acid reflux unless the head is slightly elevated. The Special Delivery Baby Hammock fixes this problem was by keeping baby's head slightly elevated naturally, without the use of pillows or other props.
The Special Delivery Baby Hammock is highly portable. It can go from room to room, or even out of the house with you. With the easy clip and chain extension, your hammock will move with you, allowing your baby to always have the same safe and nurturing bed.
Each Special Delivery Baby Hammock is handcrafted by one of our seamstress mothers—a work of love and creative attention. From the fabric selection through the sewing and hanging, each hammock is an individual creation from our seamstress mothers that will one day be cradling a very special baby!
---
Rosa Martinez
I went to sewing school at the age of 19, while pregnant with my third child. I felt it was important that I be able to work from my home while I cared for my children, and sewing offered that opportunity.
Some time later, I emigrated to the United States; and it was clear that learning to sew was the best decision in my life. I had a natural affinity for sewing, and it opened doors for better jobs. I felt greatly blessed qualifying for a job with designer, Debora Cross and continued to work for her for almost 30 years.
It was then that the idea of sharing what I know to the most vulnerable women in my country was born
When my own children became independent, I made the decision to return to Mexico. Arriving in this majestic land of La Mision in Northern Baja, I soon met Angela, Susanna and Alondra. Like me, their lives have been riddled with immense challenges and a feeling of "no way out". Understanding this, intensified my determination to teach these women a skill that could empower them and provide a financial base, where previously there had been none.
Wanting to dedicate myself solely to this was not possible in the beginning, so I continued working with Debora 2 weeks every 2 months, returning with money to continue my dream.
I am very inspired to be able to work with these women, and open doors for a gentler life for them and their families. Meeting Patricia and realizing that we share a similar vision and mission, is a miracle that is giving life to our dreams.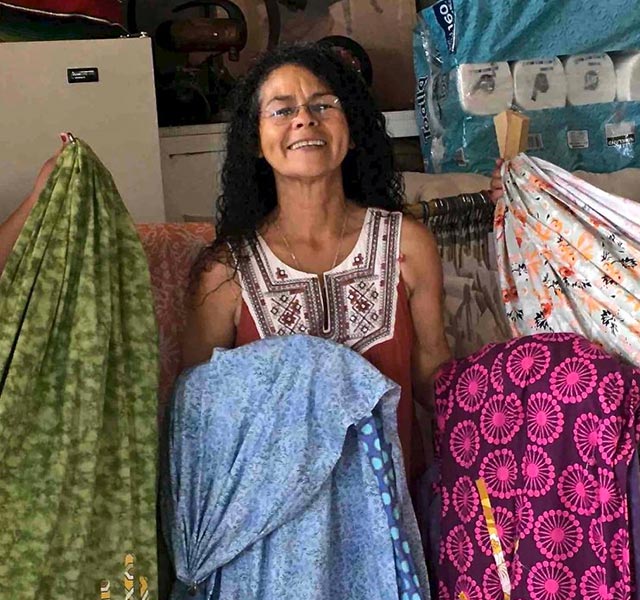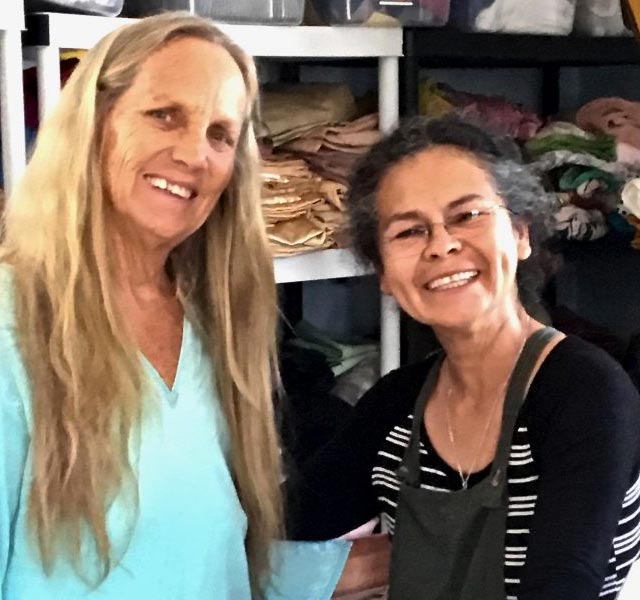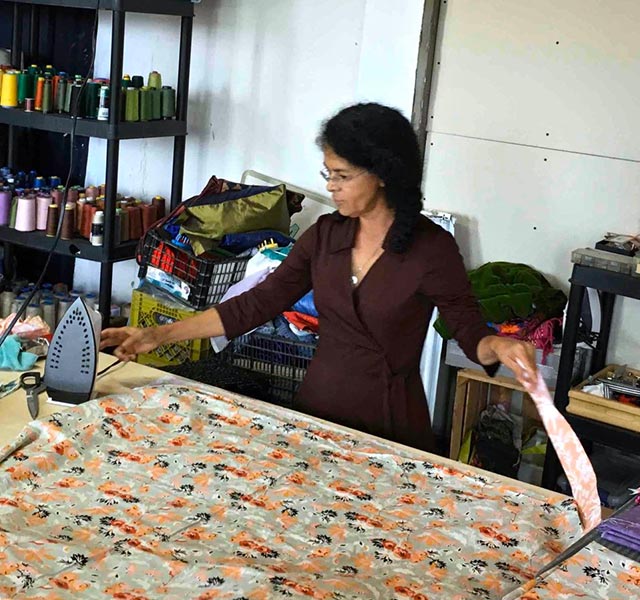 ---
Susana & Alondra Arvizu
Susana Arvizu, was born in Ensenada, Mexico; with learning and speaking disabilities. She married at 17, and experienced 25 years of domestic violence from her husband. She was left to support and raise 3 children following his death. Battling to find a job, she was forced to accept whatever job she could; cleaning houses, washing dishes; which placed her at risk for further abuse.
She now lives with her 20 year old daughter, Alondra, who was born with similar learning and speaking disabilities as her mother. For both of them, life is a day-to-day challenge.
Together, they live in a small house that was passed on by Susana's father.
When she received the house it had a large "water debt" of more than 20,000 pesos, resulting in the water supply being suspended.
The house continues to deteriorate, with no money available for upkeep and repair. Currently, the disrepair of the roof is accelerating the damage and poor conditions of the house, as waters leaks through the roof.
Susana and Alondra have brought so much enthusiasm and heart to our team. They are so grateful to have this opportunity and participate fully, eagerly learning skills that hold the promise of new opportunities for their future.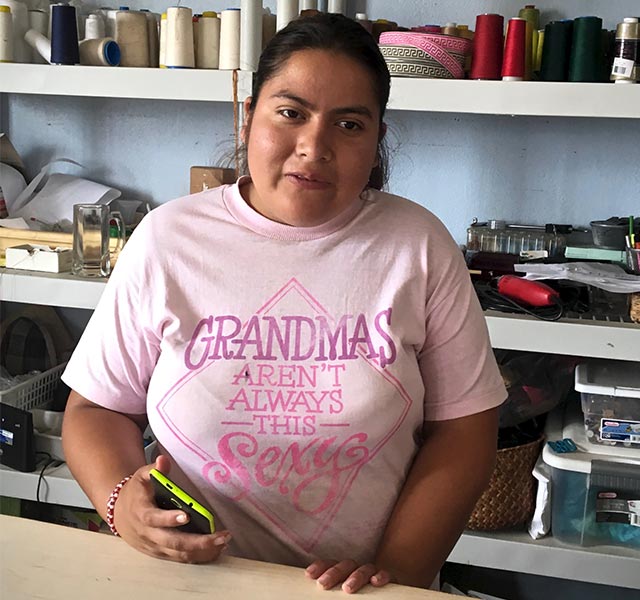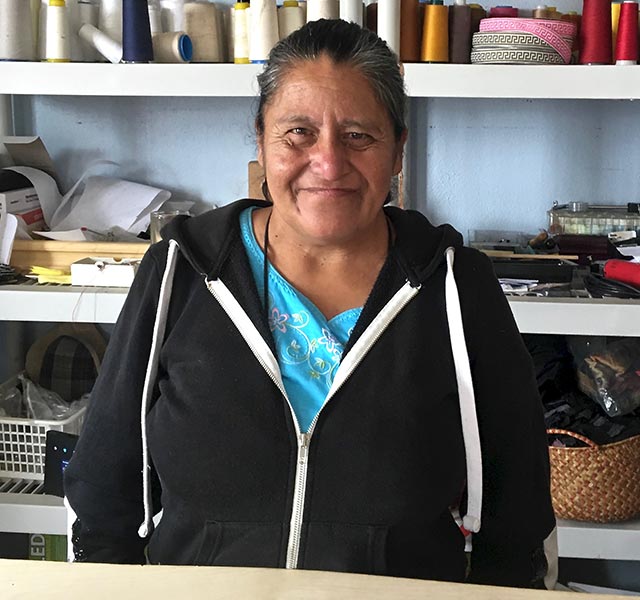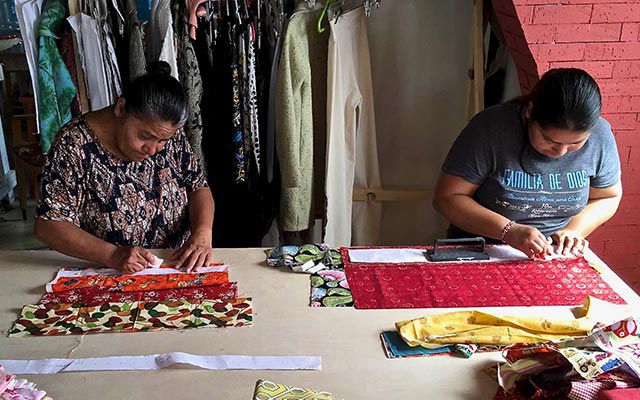 ---
Angela
Born in Mapimi, Durango, Angela was sent on a vacation to visit her mom and disabled brother in 2007. While she was away, her husband abandoned her as a single mom of 4 children, aged 11,13,14 and 15.
She became the sole provider and cared for her children, her disabled brother and her aging mother. In 2010, her mother died, and since then she has continued to provide for her children and disabled brother.
Today she continues to work from 4 in the morning until 8 or 10 in the evening, as her brother's only provider and caretaker. Her brother had meningitis as a child and cannot talk nor walk, but must be left alone and helpless at home, when she is out working. She is also now caring for an older man, taking him to the doctor and helping him with his many needs.
For work, she sews clothes, does housecleaning and makes tamales and gorditas that she sells in the neighborhood.
Since her husband abandoned her, everyday in her life has been a struggle. She thanks God for not having been ill nor having had accidents and is grateful for these sewing classes and the opportunity to make hammocks for Dr. Patricia and Special Delivery Baby Hammocks.
Angela, like Susana and Alondra, arrives with enthusiasm and gratitude every day! She brings a note of cheer and optimism for the possibility to be a part of something larger and express her own creativity while also meeting her day-to-day needs. Like our mothers in Hawai'i, this opportunity can blossom into working right from her home, where she can continue to care for her brother, without leaving him alone.