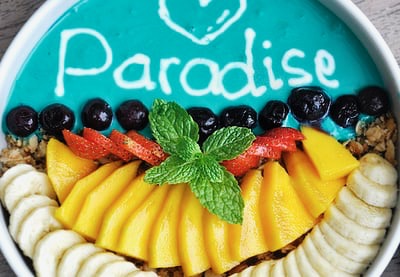 Imagine a slightly thicker fruit/super food smoothie, served in a bowl with some fresh fruits, select veggies, nuts, seeds, & all good things crunchy, sprinkled on. Smoothie bowls bring simplicity & beauty to the healthy breakfast, when you choose your ingredients well.
5 reasons to fold such colorful & tasty bowls into your diet.
Smoothie bowls are typically thicker than regular smoothies, therefore they can be more nutrient & fiber-dense, as well.
Fruits & veggies like kale, spinach, & other leafy greens, are a delicious way to consume lots of fiber, water, antioxidants, & other important phytochemicals; promoting optimal cell function & supporting good gut bacteria.
When you add well-chosen nuts & seeds, you not only provide healthy fats, but also slow down the absorption of the natural fruit sugars into your bloodstream.
Chewing, activates anaerobic bacteria the grooves of your tongue, assisting in the conversion of nitrates in greens into heart-protective nitrites, as well as creating the first stage of molecular breakdown, both enzymatic and by the action of maceration (that's chewing).
Since you're likely to consume them more slowly, the savor-factor gives the brain time to register proper satiety, meaning you are more likely to be satisfied with less, rather than more. AND the pure joy of the experience releases Oxytocin and other "feel good" hormones, to starts your day right. Sounds like a win-win for Total health & vitality.
The Savor Factor: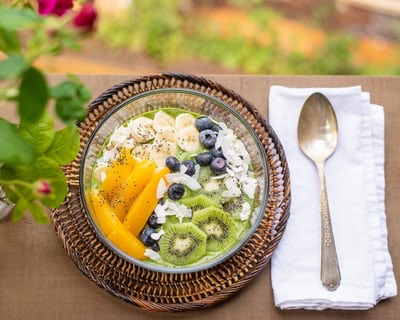 Take your time to savor your smoothie bowl, both while you prepare it & eat it. As you prepare the bowl, you are already releasing enzymes in the mouth, preparing to digest the carbohydrates & proteins. And you can use the time to FEEL Gratitude & Wonder for these Real Foods; for their colors, their flavors & the amazing gifts they provide to your body's health & well-being.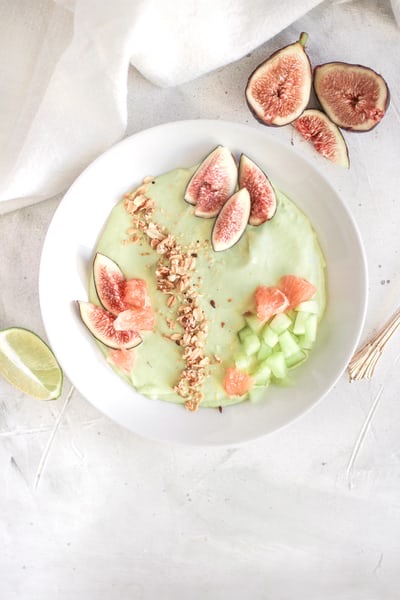 For Breakfasts…Desserts…and Inspired Snacks…enJOY a Smoothie bowl and let the GOODness Begin!!
The possibilities are Infinite, with Joy & Deliciousness just waiting to be unleashed!
Remember…Knowledge is Power. As parents and caregivers, it is so important to work from a foundation of knowledge and model Reverence for Life, in all its forms.
Don't forget to subscribe to our email, so you will always be informed as I continue to provide more in-depth information about eating Real Food, supporting your Immune System, and Living the Life of your Dreams!
Mahalo nui loa!
Peace & Blessings, Dr. Patricia